The Secretary-Treasurers office shall be an elected office held by a single individual for a term one (1) year of service. The same individual may hold the office of Secretary-Treasurer for multiple years without limit. Election to the office shall be by simple majority vote of all members in good standing in attendance at the election meeting.
The Secretary-Treasurer should arrive no less than 5 minutes before the official start of the chapter meeting.
As the Secretary-Treasurer of the chapter your responsible for speaker rotation,  text reminders of meeting and keeping track of dark days. 
Speaker Rotation.  
You will keep track of the speaker rotation and confirm with the speakers each week that they are ready.  
You will gather speaker information and introduce the speaker each week.  Speaker form can be found here. Below is a copy of the email you can send to your speaker 2 weeks before they speak.  
At each chapter meeting you will announce the next 3 speakers and the date they will be speaking. 
You will have access to the BBNG text messing system  where you will arrange the weekly meeting reminders. 
Renewing members.
You will be responsible for keeping track of members membership anniversary dates and at the start of each month you will be announcing the members who will be coming up for renewal for the next two months. 
You will have access to the Google Dock of members
Member Information.
You will be responsible for keeping track of members information.  Keep the Google Dock up to date with the latest member contact information. 
Email to Member Spotlight Speaker.
Subject: Request for a complete Speaker Bio for your member spotlight.
Body of Email: (if you just highlight and copy, you can paste it right in your email)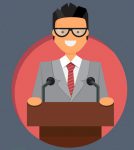 It's almost time for your member spotlight. you will be spekaing on DATE HERE. Please take a moment to complete our Speaker Bio form and return it to me as soon as you can.  I will use this to introduce you before you speek.  The more information you can provide the better the introduction.  Click here to go to the Speaker Bio form 
Please keep your presentation to between 10 and 15 minutes max allowing time for questions from the audience.  Please arrive about 15 minutes before the start of the chapter meeting to get any audio/visual needs addressed.  If you need any AV please request that at least two weeks in advance from your Secretary-Treasurer. 
Thank you
YOUR NAME
Secretary-Treasurer
YOUR PHONE